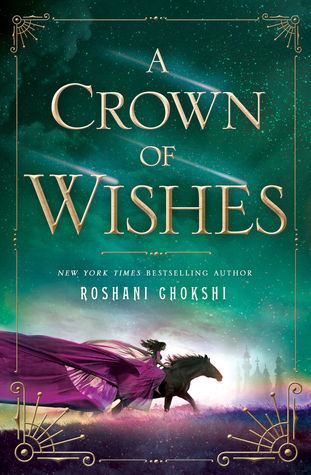 **Huge Thank You to the publisher for providing me with an audio version of the book to review!**
I struggled with the first book in this series but really wanted to give the second book a try. This was a beautifully created world, but I don't feel it was enough to hold my interest. It was not enough for me to like this story to give it more than 3 stars.
Gauri is the princess of Bharata and is a prisoner of war, captured by her kingdom's enemies. She has so few choices on who to trust and questions everything when she has to trust the prince from another land, Vikram. This unlikely pair teams up to enter the Tournament of Wishes, where the winner will be granted one wish. Can these two work together to make it out alive? Or will what they desire most get the better of them?
When I finished Star-Touched Queen, I was underwhelmed and lost. Still, I promised myself I would give the sequel a chance. I did and yet I could still not get into this story. The writing is breath-taking but it was too…. flowery? Too showy? Too much? Whatever term I want to use, I use it because the wording covered up the actual plot of the story. I was again lost in the words and confused by what was going on. I couldn't follow what was happening. I know for a fact there is an amazing story within the words of this book, but I couldn't find it. I felt overwhelmed by the overuse of descriptive terms to explain the simplest items and/or tasks. It felt like too much.
Even though I was lost in the overall story, I did enjoy the characters this time around. Gauri and Vikram were very well done. Gauri came across spunky and fearless, while Vikram was steadfast and headstrong. These two together were a force to be reckoned with. The banter and chemistry between them was what I enjoyed most. I dare say I liked them better than Maya and Amar.
Even though my review has been rather ho-hum and almost repetitive of the first Roshani book, I still gave this story 3 stars. Why? I cannot deny how beautiful the writing is. I cannot get over how effortlessly the words come off the pages. However, the writing felt verbose. The overuse of words to describe something that should have been simple caused my mind to check out. I quickly found myself not excited to read the next page or the next chapter. I was not invested in the characters, their romances, or their journeys. I kick myself for not being able to love these stories the way everyone else does, but then again, not every book is meant for every reader.
I adore Roshani as an author and will forever support her, but this particular book series just is not for me. I know she will be a powerhouse of an author and will be around for a very long time. I'm so thrilled for her and wish her nothing but success as she continues to write novels. I will say that I will give her next book/series a chance, but I cannot read any more within this series itself. While I did not enjoy TSTQ that much, I hope people give this book a chance. I believe the characters are better and are more enjoyable to read.