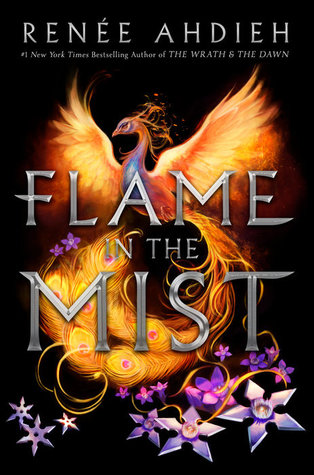 HOLY. CROW. What a story! This is only the first book in a new series by Renee Ahdieh and I already want more.
Short recap: Mariko is on her way to meet her betrothed when her carriage is attached by The Black Clan. She alone survives the attack and in order to stay alive, she dresses and acts like a boy. She also devises a plan to infiltrate The Black Clan and take them down from within.
This book was action packed from the very start. It is loosely categorized as a Mulan retelling and who doesn't want to read that?! It is set in feudal Japan and I was quickly swept away into the breathtaking world Renee created. I normally would struggle with books like this because of the names and setting, but I followed this with no problem. I swear Renee has a gift and talent with the written word. This was packed full of Japanese mythology, samurai, secrets, lies, and betrayals. Plus…. she includes just the right amount of smoulder and sexiness to make things really steamy. I could not get enough of this story.
I enjoyed all of the characters in this story. The more I got to know them, the more I realized that everyone had something to hide. Everyone had a secret they would die to protect.  I did like reading a story about a strong female protagonist who was struggling to break the mold of what women in that timeframe were supposed to be. Mariko was not going to sit back and be a meek housewife. She had a strong will and was incredibly logical. I found myself wanting to be more like her. She never backed down and she never gave up. Admirable traits. I also found myself being drawn to Kenshin's character more and more. I admired his determination to find his twin at whatever cost. It almost reminded me that not every character was perfect. He himself had secrets he would prefer stayed buried. Even the side characters in this story all had a huge role to play. They all contributed to the overall story and I loved that.
This book was not without its faults, I'll be honest. The main one that sticks out to me was that Mariko did not always make the smartest decisions. She is brilliant and a very logical thinker, so it irritated me when she made simple, stupid mistakes. But honestly, Mariko did not always make these kind of mistakes so I can only list once or twice that it happened. If that is the most negative thing I can think of, I believe that is okay.
Overall, I ship this book so hard. I loved every page, every character, every setting. Renee has a gift, I'm sure of it. She could write down her grocery list and I'm sure it would be masterful. This author will always be an instabuy because she can not write a bad story. Please, add this to your TBR if it isn't already there. It needs to be there. You need this story in your life.