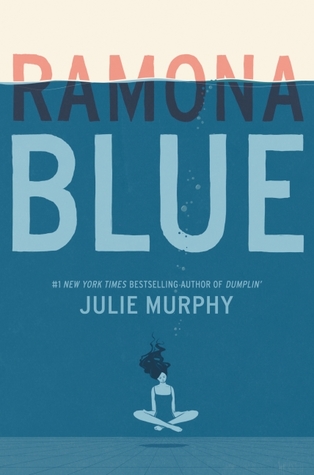 Julie Murphy is an insta-buy author in my world. She is a local Texas girl so I will always support her. Plus she is just hella cool. I was very excited for her newest novel, Ramona Blue, and even more excited when it became available from my library. This was a very well written story that will be important to some people and for that, I gave it a happy 4 stars.
Short recap: Ramona lives in small town Mississippi, loves swimming, is openly gay, has a pregnant older sister, has survived a terrible hurricane, and is slowly falling for her best friend, Freddie. Falling for Freddie makes her question nearly everything about herself. Can Ramona keep everything together and be able to accept this new love into her life?
Ramona was a fiercely complex character and I loved that about her. From page one she knew who she was as a person. She had been through more in her short life than most people go through in a lifetime. What did bother me most was that she felt she needed to save everyone no matter what. She felt she needed to protect and provide for her older sister after she found out she was pregnant. She felt she needed to work as much as she could after high school let out so she could pay bills. She felt she needed to give up on her dreams of getting out of her small town so she could provide for her family. I get how much she loved her family, but come on! She needed to let her sister, Hattie, fall on her face! Everyone has to experience rock bottom at some point (actually, I hope nobody has to experience that. It's truly awful) or at least fall down and learn to pick themselves back up. Because everyone around Ramona knew she would sacrifice they were never afraid to ask her for help. It hurt me to see this teenager have to be so much older than she really was. It made me want to slap her daddy for putting that much pressure on one daughter and not the other. Or maybe that is just the sign of a good book, to be able to stir up so many emotions that way.
The other thing about Ramona's character that stood out was how much she beat herself up internally because she knew she was gay but started developing feelings for her childhood male friend, Freddie. It felt like she was so against being bisexual or anything other than lesbian that she was embarrassed by it. Why was it so difficult for her to accept what was going on? Loving people of both sexes did not make her a horrible person! She did not have to fit under any one label, but she put too much pressure on herself to do just that – fit under a specific label. I wish she had just calmed down a little bit about it.
The rest of the characters played their part and I can see why they were there. I know that sounds cliche and vague, but hear me out. Ramona had few friends outside of the ones she worked with at her after school job. I don't remember any of them standing out to me too much but that was just me. This story really focused more on Ramona, Freddie, and Ramona's pregnant sister.
The one thing that fell short for me was the swimming. Ramona was supposed to be madly in love with swimming but it felt like it was hardly touched upon. I wish that had been expanded on more. Other than that, this was a wonderful story! It made me start asking questions and pondering about things. It also brought up emotions for me and made me feel things about fictional characters so kudos to you, Ms. Murphy! Well done. I hope everyone gives this book a chance.