Goodreads Link:
https://www.goodreads.com/book/show/31145123-internet-famous?ac=1&from_search=true
Preorder Links:
Amazon- US:  http://amzn.to/2o2dg88
Amazon – UK: http://amzn.to/2po6ZUm
Barnes & Nobles: http://bit.ly/2oZLWv5
Book Depository: http://bit.ly/2oT3xFb
Social Media:
Facebook: https://www.facebook.com/pages/Danika-Stone/426003857425751?fref=nf
Twitter: https://twitter.com/Danika_Stone
Instagram: https://www.instagram.com/danika_k_stone/
linkedin: https://www.linkedin.com/in/danika-stone-99783769/
YouTube: https://www.youtube.com/channel/UCmYNXyohrKMkIgsWLLbMjEA
Tumblr: http://danikastone.tumblr.com/
Pinterest: https://www.pinterest.com/authordstone/
Synopsis (GR):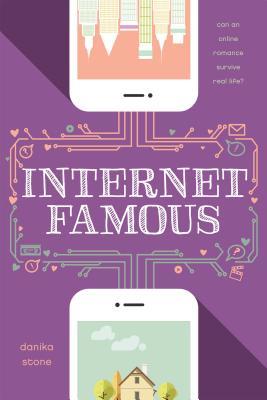 High school senior and internet sensation Madison Nakama seems to have it all: a happy family, good grades, and a massive online following for her pop-culture blog. But when her mother suddenly abandons the family, Madi finds herself struggling to keep up with all of her commitments.
Fandom to the rescue! As her online fans band together to help, an online/offline flirtation sparks with Laurent, a French exchange student. Their internet romance—played out in the comments section of her MadLibs blog—attracts the attention of an internet troll who threatens the separation of Madi's real and online personas. With her carefully constructed life unraveling, Madi must uncover the hacker's identity before he can do any more damage, or risk losing the people she loves the most… Laurent included.
Excerpt: 
Madi stared at her mother, the seconds ticking by.
"You're kidding, right?"
Around them, the sunny May afternoon continued on like nothing had happened. The spring air hummed with the rumble of lawnmowers and motor vehicles. Children laughed on the playground. A bee buzzed. Madison Nakama was oblivious to all of it. Her chest ached like the time she'd fallen off the top of the monkey bars and her body had forgotten how to breathe.
This time she'd been pushed by her mother.
"Mom," Madi pleaded, "please tell me this is a joke."
"No joke. I'm going."
Madi's eyes darted to the playground and the brick-fronted buildings behind it, seeking out her sister. Spring had arrived in upstate New York. Around the park, crabapple trees hung heavy with pink blossoms, the blue sky dotted with perfect silver clouds. Her fingers clenched, claw-like, around the cell phone in her hand. This is so bad! So freaking bad!
"It's been in the works for a while," her mother said, "but I got the confirmation yesterday."
"Confirmation. Right."
"I'm…" Her mother shifted uneasily on the bench. "I'm leaving at the end of the week."
Madi jerked. "As in this week?!"
"Oxford has an undergrad summer course they'd like me to co-teach. It starts June 1st. I want to have the paperwork done and be settled in the apartment before—"
"You've gotta be kidding me!" Madi's shock rolled into sudden anger. "This is like some— some kind of awful joke!"
Julia gave a long-suffering sigh. "For goodness sake, Madison, you're a senior in high school, not a child, so please stop acting like one."
"But you're running away!"
"No one's running anywhere."
"Driving. Flying. Whatever!"
Madi glared at children laughing on the equipment. Over on the swing-set, her sister Sarah—looking younger than her fifteen years would suggest—swung back and forth. Her lips were pursed in focus, eyes half-closed. It was as close to a smile as Sarah ever got. The swing's chains screeched in time to her motion. Watching her, Madi had the unsettling realization that while the pin had been pulled, the grenade had yet to go off.
But when it did…
"Look, it just sort of happened." Julia Nakama's voice was barely audible above the happy din of children. "And while I know this must be hard for you—"
"You know nothing about how hard it is!"
"I know what it must seem like," her mother said, undeterred. "But Wells only approved my secondment yesterday. And as soon as your father and I talked about the move I—"
"Dad knew about this?!"
Squeak… squeak…
Her mother leaned closer. "I understand you're upset about this, but please lower your voice or—"
"Or what? You'll leave?"
"Madi, please."
Squeak… squeak…
Madi stared at her sister, willing her angry tears to disappear. This couldn't be happening to them. Not now! Not when Sarah was finally settled into a good routine.
"I know this is hard to hear," her mother said. "But opportunities like this don't come along every day. When you're older and you're building your own career, you'll understand." Squeak… squeak… "Madi, are you even listening to me?"
She spun. "Listening to what? You're leaving!" Her eyes narrowed. "Again."
Her mother's smile faded into frosty annoyance. "Calm down. People are staring at us."
Squeak… squeak…
"Calm down?! How am I supposed to 'calm down' when you're taking off?!" Madi's voice grew shrill and she stumbled to her feet. A nearby mother turned in surprise. "You said you wouldn't do that! You promised us—you promised Sarah! And now you're doing it all over again!"
"Madison, please!" Her mother's fingers clamped around her wrist and she tugged her back down to the park bench. She smiled apologetically at the onlookers, shrugging as if to say: Sorry about this. My teen's just being a teen. You know how it is. Madi could almost hear the laughter.
Squeak… The repetitive pattern slowed and Madi caught her sister's eyes across the playground. Squeak… Sarah frowned. Squeak… Madi looked away.
"You need to keep your voice down."
Madi jerked her hand back and crossed her arms. "Yeah, well, you need to keep your promises."
Julia sighed. "You'll understand when you're older. Families and careers are never easy to balance—" Her voice faltered. "Especially with our challenges. But I can't keep putting this off. Teaching at Oxford is an opportunity I'll never get again." She stood from the bench, brushing invisible crumbs from her slacks. "Now get your sister. We need to leave."
Madi grabbed her pack and stood. "Why don't you get her yourself since you're so certain about everything?"
A nearby woman gasped. Julia's face drained of color. She stepped in front of Madi, blocking her from onlookers.
"We'll talk later. Go get Sarah."
Madi lifted her chin. "No."
Her mother let out a hissing breath as her fingers snaked around her daughter's wrist. "Now I don't know what you think you're playing at, Madison, but you will go get your sister or—"
"Why is Mom hurting your arm, Madi?" a voice asked.
Julia released her daughter and stumbled back. Sarah stood behind them, watching with that unwavering gaze she always had.
"I-I'm not."
"Yes, you were. I saw you," Sarah announced. "You were talking to Madi, and then Madi started frowning, and she yelled at you, and then you yelled at her, and then you grabbed her arm and—"
"I'll be in the car! Hurry up girls. We're already late." Julia bolted away, dodging wayward children. She didn't look back.
Madi threw her arms around Sarah, hugging her younger sister. Sarah tolerated it for the count of three, then began to squirm.
"Thanks for saving me," Madi said as she released her.
Sarah didn't smile. (She rarely did.) "Why is Mom mad at you?"
"She isn't."
"Yes, she is." Sarah spoke with certainty.
"No."
"I saw her, Madi. You were talking, and then you started frowning and—"
"I dunno, Sarah. Mom's just—" Madi's shoulders slumped. It wasn't in her heart to tell her sister the truth: Everything in their lives had just changed yet again and Sarah would be the one to suffer for it. Instead, she forced a brave smile. "Mom was just ready to go. She asked me to get you, and I said no."
Her sister seemed to consider that for a moment, and Madi wondered if she'd now have to explain why she'd refused to get her. Questions, with Sarah, continued until she was satisfied. It was part of the reason she was so gifted academically.
"Okay then," Sarah looked up the street where their mother had disappeared. "So Mom's ready to go home?"
"Yeah. You ready to leave?"
"Uh-huh," she said, and looked back at the swing. "It was a good day."
Madi didn't answer. Couldn't. In seconds, Sarah was down the street, leaving her to follow. Madi glanced down at her phone, forgotten in her hand. In the last stressful minutes a new post had appeared on her dashboard. Her throat ached as she read it.
With a sigh, Madi hit 'reblog'.
This was the worst possible day in a long string of them, and her sister, Sarah, didn't know the half of it.
About the Author:
Danika Stone is an author, artist, and educator who discovered a passion for writing fiction while in the throes of her Masters thesis. A self-declared bibliophile, Danika now writes novels for both teens (All the Feels and Internet Famous) adults (Edge of Wild and Intaglio). When not writing, Danika can be found hiking in the Rockies, planning grand adventures, and spending far too much time online. She lives with her husband, three sons, and a houseful of imaginary characters in a windy corner of Alberta, Canada.
Ms. Stone is represented by Morty Mint of Mint Literary Agency.
Rafflecopter Giveaway:
Tour Stops
Name
Post Type
Date
Blog URL
MAY

Christine

Mood board

22

Tine Reviews

Jordan

Interview

23

The Heart of a Book Cover

Fatima

Guest Post

24

Fafa's Book Corner:

https://fafasbookcorner.wordpress.com/

Bianca

Interview

25

The Ultimate Fangirl

https://notoriouslaylow.wordpress.com

Brooke

Review

26

The Cozy Little Book Nook

Heather

Guest Post

29

The Hermit Librarian

Cilla

Review

30

Paved with Books

Jamie

Review

31

Books and Ladders

JUNE

Nicole Lynn

Review

1

Boundless Bookaholic

http://www.boundlessbookaholic.com/

Breanna

Guest Post

2

Recommends Book

Emily

Interview

5

Little Book Wyrm

http://www.little-book-wyrm.com

Amber

Excerpt

6

Bookstackamber

Ardis

Review

7

Pondering the Prose

Bayy

Guest Post

8

Bayy in Wonderland

Annalisse

Review

9

Hopeful Reads

Sara

Excerpt

12

A Gingerly Review

Wren

Review

13

The Litaku

Krystianna

Review

14

Downright dystopian

Kathleen

Interview

15

Books, TV, & More… Oh My!

Bonnie

Excerpt

16

A Backwards Story