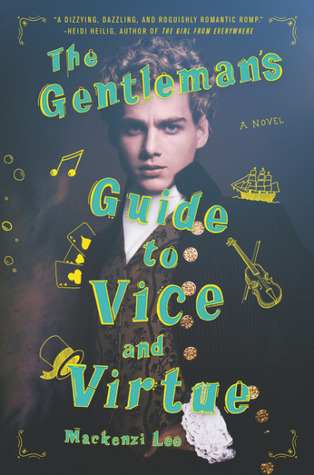 Historical fiction has always been one of my least favorite topics to read. Most of the time I zone out with the details and descriptions of past events. Things have changed lately with more authors finding ways to tell a historical fiction story while making it fun or engaging. That is exactly what this story did. It was brilliant and I want everyone to read it.
Short recap: Henry Montague, aka Monty, is on his tour through Europe. He is a very outgoing, headstrong, and confident man who knows what he wants and likes in life. Monty is not alone on his tour, his sister (Felicity), and best friend (Percy) are along for the ride. Buckle up for a crazy adventure full of pirates, highwaymen, gambling, and hookups.
The number one thing that stood out to me in this entire story is that Monty is bisexual. He knows it and is proud of it. Why did this stand out to me? Because we have so few YA stories that are diverse enough to have a MC bisexual, for starters, and this kind of character is in 18th century England. What Mackenzie was able to do was create a story… a bloody brilliant, witty, and clever story that is so diverse it blew me away. It was not all about the white man's fight for power and glory. OH NO! Monty was in love with his best friend, Percy, who happens to be biracial. I was constantly reminded of the struggles of non-white men during this time period because Percy was living them. It was so well written that I really did hurt for Percy. He was a nobleman but nobody believed him because of his skin color. Then we have Felicity, Monty's sister. She was very well educated and head strong, but she was looked down on because she was a female. These social injustices and more were present in this story. It felt like a wonderfully written tale that showed the world was your oyster and you could do no wrong if you were white, male, and straight.
I found myself howling with laughter throughout most of this story! Monty's wit and snark were on point and I quickly found that I wanted to be friends with him in real life. He could poke fun at himself while pointing out the ridiculousness of the events going on around him and his traveling companions. I also wanted to have as much self-confidence as Monty did. Maybe I'll strive every day to be more like him.
The plot… oh the plot! It was … what's the word I want to use… exhilarating! It was believable, enjoyable, and I didn't want it to end! I was never twiddling my thumbs wondering when this would be over, it was the opposite. I listened to this audio in one day and I was heart broken when it was over. How can someone be bored when there are pirates and highwaymen involved?! And shall we finally talk about the romance and tension between Monty and Percy?
"Fetch me a couch, for I nearly swoon."
I may not ship a lot of couples but this one will make me start. The attraction between these two is off the charts.
I really want everyone to read this story if they have not already. You won't be disappointed! And keep in mind that Felicity's story is next, THE LADY'S GUIDE TO PETTICOATS AND PIRACY! How can you not be excited for her story? Maybe there will be more pirates and highwaymen. One can certainly hope.