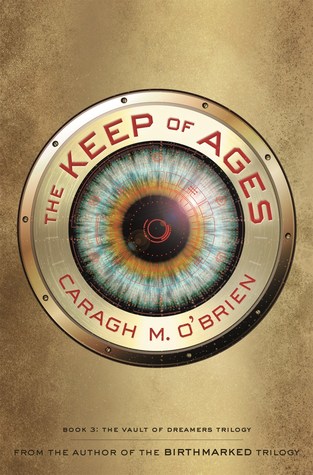 I have been waiting on pins and needles for the third and final installment in The Vault of Dreamers trilogy. It was a heck of a wait and I was not patient about it. Just as I expected, O'Brien knocked it out of the park.
Short recap: Rosie Sinclair is still running and fighting for her life against Dean Berg, who wants to mine her for her dreams. Dean Berg has upped the stakes by involving Rosie's family and those she loves the most. Will Rosie finally be able to expose Dean Berg for the horrors he has put her through and the rest of the kids in the Vault of Dreamers?
This was such a wild ride that I devoured the book in no time. Rosie's character was brilliant, as always. She was constantly growing, developing, and surviving. I found myself wishing I could be as resourceful and brave as her. She went through some pretty extreme circumstances to save those she loved, even if it mean hurting herself. She was not alone, she had her dear friends Linus and Burnham. The romance was still there between Rosie and Linus, and still awkward around Burnham. The new character introduced was Lavinia Jacobs. She was a strange bird, I'll admit, but she fit perfect into the story. She knew Dean Berg before he became the current evil person everyone is trying to run from. She worked at the Forge School before Berg so she knew what the school was supposed to be, not what it currently was.
The world building O'Brien put into The Keep of Ages was amazing! I felt like I was on the cliffs next to the beach and in the amusement park watching that fantastic dragon. I really loved the setting so much as it made the story feel realistic and believable. This was such a quick paced, action packed, non-stop story that it was over before I knew it. I found myself sad to say goodbye to Rosie and her friends. I really enjoyed watching Rosie's character really grow and develop over the course of the trilogy. I know, that sounds crazy but when you enjoy a series as much as I enjoyed this one, you'll know what I mean. I felt connected to Rosie because I was with her for her journey.
I am trying so hard not to give away any spoilers in this review so forgive me for being so vague. Just know this – this book was everything I was hoping it would be. O'Brien did an outstanding job of wrapping up the series and giving us the ending we deserved. I hope you will give this a chance, you won't be disappointed.