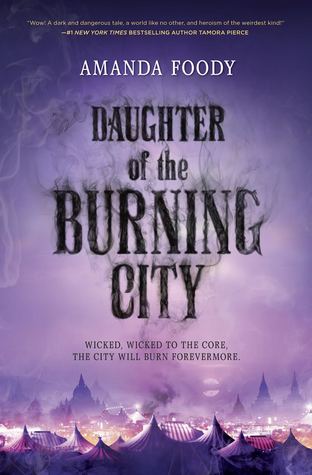 What a fabulous debut! I really did enjoy this one and cannot wait to read what this author publishes next.
Short recap: Sorina is a sixteen year old girl that has spent nearly her entire life within the Gomorrah Festival. She has a very unusual gift – she is an illusion worker. She has the ability to create very, very realistic illusions that people can see and touch.  Things change when her creations, her family, are being murdered. Who would do such a thing and why?
Nearly everything about this book had a hold of me: the characters, the setting, the story. Well… that's everything, isn't it? Ha! This felt like the total package. First, the story: a girl that can create illusions that are so real they take on a personality of their own? Count me in! The really wild part… Sorina has no eyes. She always wears a mask but she can still see as well as anyone else. Sorina's character was such a great protagonist. She was level headed, down to earth, and oh so smart. She wants nothing more than to find out who was killing her creations and I don't blame her. She was sharp enough to put simple clues together to get to the bottom of what was going on. Not only is she a carnival worker, she is also a teenage girl – don't forget that. She wants to find romance. She is faulted, brave, fearless, and brilliant. I really liked her character. Her love interest in the oh so mysterious Luca. He is so awesome that I am struggling to find the right words to describe him. He is smooth as silk and yet has that brooding dark past that makes him mysterious. Double whammy right there. Brace yourself when he comes into the picture but you will find yourself quickly falling for him. You've been warned.
The setting of this story held my attention like few books do. It is set in a carnival but this isn't a happy happy carnival with those psycho clowns that eat souls (that's the only clown I know so don't @ me with how great they are… they are evil!), this is a dark carnival. People travel to spend their hard earned money on a distraction and that is what they get. And when I say "distraction", insert your own definition of that word here because it means something different to everyone.
The plot itself was full twists, turns, and red herrings. I was invested in Sorina's quest to find out the truth. I didn't see that ending coming, whoa! As with any good story, she uncovered far more than she expected and now her world is flipped upside down. I will not go into detail as I feel I've already given too much of the story away. I really want everyone to read this!
If this isn't already on your TBR, add it now. The writing is very well done, the plot is thought out, as are the characters, and the romance adds just the right touch to make this story complete. I cannot stop recommending this to everyone.