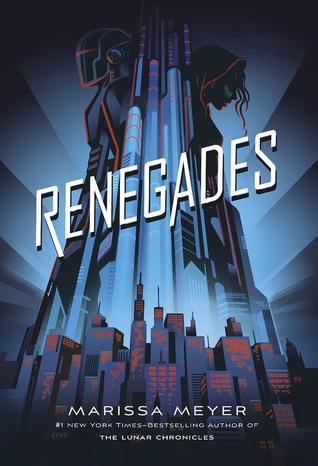 Who hasn't been excited for this book?! The thought of a story about superheros… good vs evil, who will win? I was hesitant to start this after the bomb that was Heartless (don't get me started) but because my love for The Lunar Chronicles is so strong, I was willing to give this another try. I was not disappointed.
Short recap: Nova was born into a time where superheroes are everywhere – people born with extraordinary powers, they are known as Renegades. They are supposed to protect everyone. But when they don't protect Nova's family from being murdered, Nova vows revenge. She grows up to be a secret member of the Anarchists (the bad guys). She vows to bring an end to the Renegades and seek revenge for the loss of her family.
Holy crow I loved this story more than I should admit. I was absolutely fascinated with everything! The thing that stood out the most was the powers everyone had. I really did expect the normal powers… you know, invisibility, telekinesis, fire, water, blah, blah, blah. But oh no – Meyer put some thought into these characters! It made me wish I was more creative and could have thought of a good superhero for the contest she had recently. (Between you and me, I did create my own character while listening to the audio of this book. Her name is Wink and while she may not be the most creative, she made me feel like I had some sort of creativity… If you want me to go into more detail about her, let me know!) To get an idea of some of the powers these characters had: one could move through mirrors, one controlled bees/wasps/hornets/insects like that, one would know your deepest & darkest fears, one could switch between human skin and rock. Those are just a FEW of the powers. How cool was that?! I won't give them all away – you'll have to read to find out what else is mentioned.
Now onto the main characters: Nova and Adrian. I loved Nova so much. I felt her pain from the moment her backstory was given. She had so much passion and determination that she lept off of the pages. She was brilliant, clever, witty, and still growing. I also loved her character arc. She grew so so much as the book progressed that I kept wondering what she would do. See, since her true identity was always hidden, she chose to go undercover and try out for the Renegades. Of course, she made it and played a double agent type role. But the more she learned about the Renegades organization and the actual Renegades, her hardness slowly started to soften. Were they all really as bad as she thought they were? Then there is Adrian, the post boy for the Renegades, also known as Sketch. He is the son of one of the founding members of the Renegades that died a mysterious death. He was adopted by two dads (!!!! Insert my excitement for two dads!) – two more found members of the Renegades. That means he has some very big shoes to fill. Adrian tries every day to make his mom and dads proud. Unbeknownst to anyone, he has some secrets that come out over the course of the story. Again, I'm not giving anything away. You have to get a copy of the book to find out!
There is some romance in this story, as with any Meyer story, but I don't feel it overpowered the actual plot. It was a slow burn between Adrian and Nova. It did not give me super gushy feels but it made me curious what would happen to them in the next book.
The overall plot was brilliant. I already mentioned it above – Nova (who has the power to make anyone go to sleep and is known as the super mysterious Nightmare) wants to seek revenge on the Renegades for not protecting her family like they promised they would. She will not rest until the organization is destroyed. But she discovers there is so much more going on behind the scenes that she just does not realize. Needless to say, things are not always what they seem.
I cannot say enough good things about the first book in a new series by Meyer. I could not get enough of this story. When I wasn't listening to it, I was thinking about listening and finishing the story (it was a long audio, btw). But then when it was over, I was sad because I have to wait so long for the next book.  I will say that book 2 was set up perfectly and I cannot wait to see where this series goes.