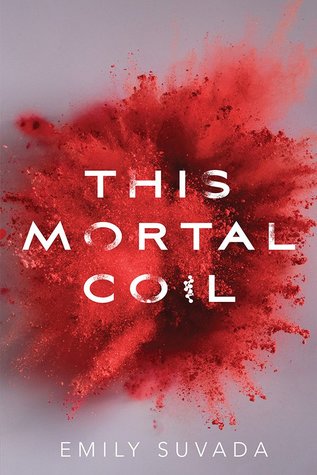 Goodreads Link:  https://www.goodreads.com/book/show/33876440-this-mortal-coil
Preorder Links:
Amazon- US: This Mortal Coil
Barnes & Nobles: This Mortal Coil
Book Depository:This Mortal Coil
Author's Social Media:
Blog: http://emilysuvada.com
Twitter: https://twitter.com/emilysuvada
Goodreads: https://www.goodreads.com/author/show/16320871.Emily_Suvada
Facebook: https://www.facebook.com/emilysuvada
Instagram: https://www.instagram.com/emily.suvada/
Synopsis (GR):
Catarina Agatta is a hacker. She can cripple mainframes and crash through firewalls, but that's not what makes her special. In Cat's world, people are implanted with technology to recode their DNA, allowing them to change their bodies in any way they want. And Cat happens to be a gene-hacking genius.
That's no surprise, since Cat's father is Dr. Lachlan Agatta, a legendary geneticist who may be the last hope for defeating a plague that has brought humanity to the brink of extinction. But during the outbreak, Lachlan was kidnapped by a shadowy organization called Cartaxus, leaving Cat to survive the last two years on her own.
When a Cartaxus soldier, Cole, arrives with news that her father has been killed, Cat's instincts tell her it's just another Cartaxus lie. But Cole also brings a message: before Lachlan died, he managed to create a vaccine, and Cole needs Cat's help to release it and save the human race.
Now Cat must decide who she can trust: The soldier with secrets of his own? The father who made her promise to hide from Cartaxus at all costs? In a world where nature itself can be rewritten, how much can she even trust herself?

REVIEW:
HOLY SMOKES. This story freaking blew me away. Prepare yourself for one heck of a gushing and gloating review because I loved everything about this story.
Suvada did not waste time easing me into the story because the action started within the first chapter. Cat lives in a time when the infected people basically become zombies and can explode. That's right – explode. POOF. This new post-apocalyptic world is not for the faint of heart nor for the weak stomach. In order for Cat to remain immune to this plague… well, she has to do things that even made my stomach turn but I would have done it if it meant surviving. It is also a time of corruption by corporations, there is no law but that of the strongest corporation, and the strongest stall survive.
The thing that stood out the most to me was the science woven in this story – marvelous. Suvada made me want to learn about gene hacking. Nobody has ever made me want to learn about science or gene hacking. Well done, Suvada. The way it was all explained in this story was so clever. When something was introduced, it was then explained so I would know what was going on. I never felt like I was talked down to or as if I was simple minded. It was clear and logically talked about. Plus, it was just brilliant. Everything came across in a very clear and simple way. By doing that, Suvada made this story more believable. She made me truly believe this type of future would be possible. Not that I would want it to be (unless I could be Cat…) but it felt very, very believable. It also made me very curious about how I would possibly change myself, if given the opportunity. So many possibilities! With that said, know that there are some seriously disturbing parts to this story. While I would say you need a strong stomach to read, you don't. Go into it knowing not everything is sunshine and rainbows. Suvada does a damn fine job of telling it like it is. A post-apocalyptic world would be nothing but dog-eat-dog and a place where only the clever & strong survive.
Not only is the plot compelling, but the characters are so complex. They felt so real, as if I could be friends with them in real life (again, if this society were real and I was a cyborg-badass). Cat was such a well developed character that she constantly kept me guessing as to what her next move would be. I found myself quickly trying to solve the problems like Cat, or think about the science behind what was happen and try to guess what Cat would do. Now let's talk about Cole… purrrrr. I know he's the guy sent to protect Cole but he, too, was so well rounded and intricate that I wanted to know more about him. He was slow to reveal the skeletons in his closet but once they started to come out, I just wanted more. He was a fantastic character. And then put Cat and Cole together and sparks fly. WHOOOOO BABY. give me a moment to fan myself. I know some people didn't like the romance in the story but it was such a small part of the story that I believe it added, not took away from.
Overall, I loved this book. Loved. Loved. Loved. I want more from Suvada, especially book two of this series! I am proclaiming myself a forever fan of Emily Suvada. No matter what she writes, I will read. Make sure you grab yourself a copy of this one because it is a story that you will never forget.

GIVEAWAY:
About the Author:
Emily Suvada was born and raised in Australia, where she went on to study mathematics and astrophysics. She previously worked as a data scientist, and still spends hours writing algorithms to perform tasks which would only take minutes to complete on her own. When not writing, she can be found hiking, cycling, and conducting chemistry experiments in her kitchen. She currently lives in Portland, OR, with her husband.
Tour Schedule:
11/5 Tour Stops
Interview – Megan Manzano
Review  – Books N Calm
Review – Dani Reviews Things
Interview – Fly Leaf Chronicles
Unique Post – Book Stacks Amber
11/12  Tour Stops
Guest Post – Mikayla's Bookshelf
Interview –Reading is Dreaming with Eyes Wide Open
Review – Sarcasm and Lemons
Unique Post – Downright Dystopian
Review – Here's To Happy Endings
11/19  Tour Stops
Interview – Books, Boys, and Blogs
Review – Emily Reads Everything
Guest Post – The Book Corps
Unique Post – Life of a Literary Nerd
Review – Bay in Wonderland
11/26 Tour Stops
Review – A Gingerly Review
Review –  Pretty Deadly Blog
Interview – Library of a Book Witch