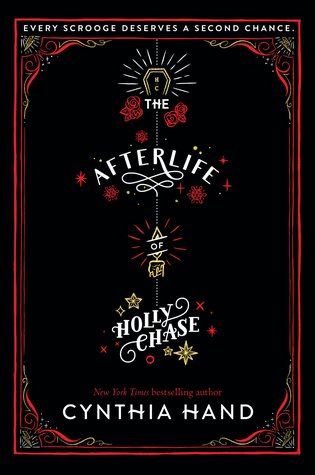 What in the ever loving heck was this book. Seriously. What was it? I love a good classic retelling but I'm sorry to say this was not one of those. I DNFd 20% into the story and it was a painful 1/5 of the book. I cannot imagine what the rest was like.
This is supposed to be a (loose?) retelling of Scrooge but it isn't a version of the story I have ever heard of before. The protagonist, Holly, is the most shallow, self absorbed, bitch of a spoiled brat I have had the displeasure of reading. After she died in a freak accident, she was recruited to be a part of a Scrooge organization that helped people realize the error of the ways and redeem themselves. Holly was recruited to be the Ghost of Christmas Past? You need to go somewhere else and sell that because I'm not buying it. This girl had the personality of a wet bag. She was only interested in being a bitch to everyone around her because her father had money and she was never told No a day in her life. She talked like a stuck up valley girl, which is always a huge pet peeve of mine. She was already vapid enough, don't make it worse by making her sound like the only things she had worth living for were good manicures and sushi. I don't have time for that nonsense. The way she treated people in real life and in death was offensive. She yelled at her housekeeper for turning the heat on during a very cold day and you want me to cheer for this girl? Get out of my face with that noise.
I decided to DNF when, after a debrief of "Scrooge #(whatever)" Holly was introduced to the next "Scrooge", Ethan, and she fell lust-over-heels instalove with him. He was just as shallow, spoiled, and rotten as Holly. That was when I threw in the towel. We all know if there is one thing I cannot stand in a book is instalove. This story had it in spades. You want me to believe that Holly suddenly had the holiday spirit and wanted to "do her job" after seeing a photo of a hot guy? Reference above note about the character being shallow and self-absorbed. I had no cares to give about what happened after that. Holly's character was given a chance to make other people happy but she chose to be bitter to the core about it. That made her so much worse! I wanted nothing to do with her or her story so I quit. I have read more than enough books in my day to know when a story is up my alley or not. This is most certainly not one for me.
If you made it through this book, let me know. I wish I could have read it through your eyes. I wanted a feel good holiday story and I really thought this would hit the spot. BWAHAHAHAHAHA! Oh how wrong I was.