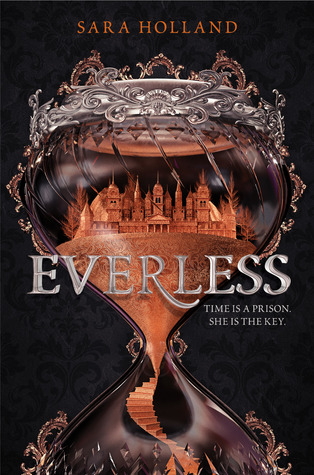 With fantasy stories being the hot thing on the streets,  it seems as if every book or every other book published right now is a fantasy. For someone that isn't a huge (high) fantasy reader (like me) that makes it difficult for me to be excited about a lot of books. I am still pushing myself to step out of my comfort zone and read because if not I might miss something great. With that said, this book surprised the hell out of me.
Short recap: Jules Ember lives in a world where time is currency. Time pays for everything: rent, food, clothing, everything. If you do not have enough time to pay your bills, you can sell your blood… which means draining years from your life. Jules is raised by her father and the one thing he has always told her is, "Never let the queen look upon you". When Jules is in her late teen years, she leaves for Everless (the main city) for employment and the opportunity to make a lot of money. Jules never expected how terrible things would turn out for her by defying her father's one wish.
I went into this story thinking, "Okay, so blood is valuable because you can sell it for the time that is in it?" Knowing how tough that was for me to wrap my head around, I still gave this book a shot. I'm happy to say that after that massive and somewhat confusing info dump at the beginning of the story, it got better. I found that I easily picked up on what was going on and was along for the journey with Jules as she figured out what her father was protecting her from. While this story seems to be cut and dry with Jules on a mission, there is a secondary story that you must pay attention to. There is a tale told and referenced throughout the book about a Sorcerer and an Alchemist. I will not give that part away but it the tale is woven throughout the entire story so don't skim past it.
The characters were just as intriguing. Jules is the protagonist and we follow her on said journey. She is a tough, brave, yet reckless character. She is quick to say what is on her mind without thinking of the trouble she could get herself in. She is aware of her history in Everless as a child and the connection she has to the princes of Everless. They don't remember her at first but she clearly remembers them. The friends Jules is able to make along the way will stay with you long after the book is over.
Holland did a wonderful job when it came to world building. I did feel as if I was submerged in Everless and all of its weird blood letting ways. I still wondered what Holland was doing when she came up with the concept of creating a story where time can be extracted from blood to create currency. And this said currency would be forged into a coin and a if anyone dissolved this coin in liquid and drank it, they would gain that amount of time. Interesting concept, no? It took me a hot minute to understand it all but it was clearly explained and soon I didn't give it a second thought when Jules talked about pulling 40 years of her life through her blood.
Here is the one complaint I have with this story: the climax was over far too quickly and passed without much fanfare. I had to really pay attention because I almost missed it. Not to mention that it didn't happen until pages before the book was over and then the story was done. Very little resolution but Holland did set up perfectly for book 2.
Overall, I enjoyed this more than I thought I would. It was just the right pace to keep my attention and keep me wanting more. I am anxious to see how the series continues and hope everyone gives this a chance.