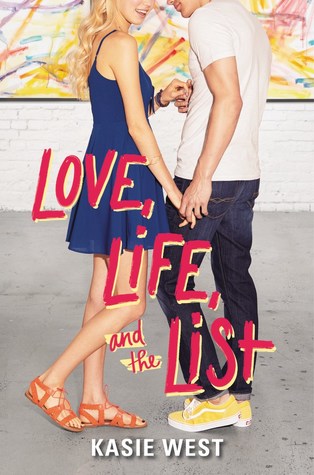 I don't know about you but when I think of contemporary books I tend to go right for Kasie West books. 9 times out of 10 they are super adorable, lovely, and just all around good fun. Sadly, her last book (By Your Side) was not my favorite and it made me hesitant to pick up her newest love story. I'm happy to report that this book was everything I wanted and more.
Short recap: Abby is a bright, up and coming artist in her town. She wants desperately to enter the local art show and get her big break. The problem is that the curator tells her she needs more depth, more experience. Enter… The List. Abby devises a List that will help her achieve more depth and insight to become a better artist. Along with the help of her best friend (and unrequited love) Cooper, they tackle their own Lists and discover more than they expected along the away.
This book was just so sweet and adorable! I really liked Abby as a MC even though I struggled with her in the beginning. Why did I struggle? Because she thought that completing 10 list items over the course of a few summer weeks would give her "depth and experience" so she would become a better artist. Well, I'm sorry to burst that bubble, pickles, but one does not magically develop or gain depth in just a few weeks. That was the only part of this entire story I didn't completely jive with. I appreciate the fact that she wanted to at least try new things and have new experiences, but I still didn't buy that she could suddenly feel her paintings differently after having gone to a fish spa. You know what I mean? Abby did have some growth and came into herself (more) as the strong continued. I felt bad for her as she was madly in love with Cooper, her BFF, but he didn't feel the same way about her. The girl watched her love interest try to date other girls so that could not have been easy. At the same time, I liked Cooper but it felt as if he was leading her on most of the time. He knew how Abby felt about him and yet he couldn't stay away from her. Either you are or you aren't into her, Coop. Pick a side!
With all of that being said, West did a really great job of interweaving some serious topics into this story: social anxiety, a child being raised by a mom who has diagnosed agoraphobia and other social disorders, a father who is overseas in the military, and unrequited love. Those are tough topics but West handled them with style and grace. There were times I wanted to grab Abby's mom, shake her, and yell at her to wake up. She was doing so much harm to her daughter! I felt bad for Abby in these situations as she sacrificed so much for her parents and asked for so little in return. I felt these topics were not brushed over at all. They were meaningful to the story and they were given the resolution they deserved.
I'm going to let you in on a little secret… This was the first Kasie West book that made me cry. I did not think I would be that emotional but something about this book grabbed my heart and never let go. Maybe it was the brilliantly written relationships within the story, or the way I truly felt heartbroken for everything Abby had to go through daily. Either way, the ending made me leak tears from my eyes.
Guys, I'm trying so hard not to give too much away with this story. If you take anything away from my review, let it be this: the progression and development of the characters was well done and the overall story tore my heart out. The topics covered were not easy topics but were necessary for this story. They were exceptionally well done and this is now one of my favorite West stories. If you have not picked this up yet, or are on the fence about reading it, please give it a chance. I walked away thankful I put the time into this story.