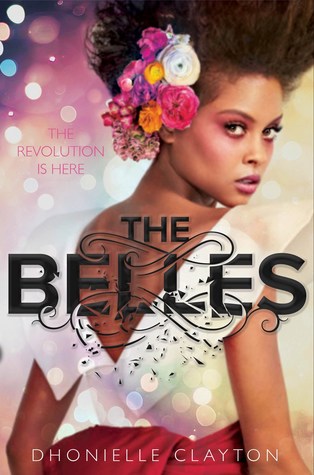 THIS. BOOK. Holy smokes this book was everything I wanted and more. It was a great read, completely engaging, and brilliantly done. I tore through this in not time even though it is 500 pages. It does not read like a 500 page book. I don't know what magic Clayton possess but she was able to pull me into this world and never let me go until the very last page.
Short recap: Camellia lives in a time when The Belles are the most coveted people in the kingdom of New Orleans. Being a Belle herself, she has been trained from birth on what it means to be a Belle, one of the few chosen by the Goddess of Beauty to spread and enhance beauty. All Camellia wants is to be the queen's Favorite, the highest title a Belle can be given. After being placed, Camellia quickly discovers that New Orleans, the kingdom, and the people are not what she was taught to believe. What is Camellia going to do?
Because I loved this story and world so much, I feel I am going to really struggle with my review. That usually happens when I wanted to express how excited I am about what I read and how much I want everyone to read it. I'll do my best so bear with me. 🙂
The entire concept of a kingdom having special people who have the ability to manipulate beauty was fascinating. Camellia lived in a city/kingdom where everyone not considered blessed by the Goddess of Beauty was born with gray skin and gray hair. They were almost completely devoid of color. That is where the Belles came in. If the people had enough money, they could buy an hour of time of a Belle and have manipulation done to enhance their beauty. Now, there were some limitations on what a Belle was allowed to do… Beauty Restrictions, if you will. A woman's waist could not be smaller than a certain size or limitation on skin color, that kind of stuff. But if the person wanted long straight blonde hair and crystal blue eyes surrounded by bronze skin, they could certainly buy that. However, the changes would wear off after a month or so. That is why the schedule of a Belle would be booked from sun up to sun down. Brilliant, no? I may not be doing the best job of describing but believe me when I say it was a great concept. In a way, it made me realize how some people are far too obsessed with their appearance and incredibly vain.
The characters within the story were amazing. Camellia, the protagonist, was so well developed and her character arc was marvelous. She and her other sisters, all named after flowers, were raised from birth with a very naive mindset. It wasn't their fault that they were not knowledgeable of the troubles of the people. They weren't exposed to those issues ever. Instead, they were taught manners and schooled in how to properly use their gifts. Camellia was the most gifted of all of her sisters, but I quickly picked up that envy and a bit of arrogance were going to be her downfall. The girl was almost overly arrogant about how special she was and how gifted she was. She struggled to be happy for her other sisters and that made me not completely like her. I believe she was purposely written that way but it was hard to like someone that was so self-assured on the point of being overly arrogant. As the story continued. Camellia had her eyes open to the real world around her and she found out first hand that people were not as great as she thought they would be. That goes double for the royal family. Boy oh boy were there skeletons in the closets of the royal family! I won't give anything away but those were some nasty, awful, selfish people. You'll have to read the book to find out what I am talking about.
I mentioned it before but I mean it – this story did not feel like a 500 page book. The pacing was perfect. Clayton hit the ground running on page one and never let up. Even at the end of the story, I didn't want it to end. The cliffhanger was just right and hooked me for book 2 (which I need yesterday). There was just enough of a magical element to make things even more interesting but it was not the biggest part of the story. The underlying story of deception and betrayal is really what will keep you turning the pages. It is going to be torture to wait until next year to find out what happens! If you have read this, let me know your thoughts. Let me know if you liked it or not. If you haven't, I hope you get to borrow from your library or can get your hands on a copy. This is the type of story that will stay with you for a long, long time.