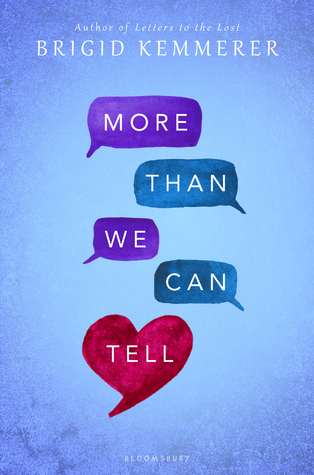 **I was sent an ARC by the publisher to read and review. This in no way affected my opinions.**
Prepare your feels if you plan on reading the latest powerhouse by Brigid Kemmerer. She tore you up in Letters to the Lost and she will bulldoze your heart in this story. You have been warned, dear readers.
Short recap: Rev and Emma could not be more different if they tried but their lives become forever tied after events bring them together. Rev had a horrific childhood that he is trying to move on from, while Emma is trying to break the stigma of women in gaming. Can these two overcome the odds?
The thing I loved the most about this story was Rev. To me, he was the heart and soul of this story. Emma had her place, I supposed, but she was the reason I neglected to give this story a full 5 stars. I'll explain. Rev was hands-down brilliant. His story grabbed onto my heart and never let go. From the moment he was introduced I wanted to protect him. He had the most tragic and heart-breaking childhood one could imagine. He was raised by one of the most abusive father's a person could think of. Poor Rev found a way to escape his Father's constant preachings, torture, and mental abuse and be place with the most loving couple on the face of the plant. Rev, not his given name, was struggling daily to find a way to cope/deal with what he went through. With that came the taunts and rumors from his fellow classmates. We all remember how mean high school kids can be, right? Rev was picked on more than most because he wore a hoodie to school every single day. Kids can be cruel for no reason. Regardless, Rev was surrounded by the most supporting people one could ask for – the most patient best friend, and two (adoptive) parents that loved him unconditionally. The one thing Rev was missing was someone to talk to, really talk to, about what he went through. Enter Emma. She was in Rev's school and same grade but they never crossed paths before. They became friends after her dog, Texas, ran into him on one of their nightly walks. The friendship took off from there. Emma had her own set of issues – parents that constantly fought over the smallest thing while she was trying to prove herself in the world of online gaming. Rev and Emma found a way to help each other through their darkest times.
Notice how I sort of stopped praising Emma? Here's why – in the grand scheme of this story, I did not feel Emma's story was as meaningful or hard-hitting as Rev's. That's just me and I know I will probably be the black sheep. Rev was abused, brain-washed, and tortured, whereas Emma is trying to deal with her parents divorcing and possibly selling the house. BOO-FREAKING-HOO. In my eyes the two topics do not even compare. Emma truly thought her world was ending because her parents were splitting up. Then she lost it again when her mom put the house on the market. Sorry to tell you, Emma, but life does not end because your parents divorce. It is not the end of the world either. I also did not understand why she felt she had to prove something to her parents when it came to totally creating an online game. That's great and all, but I lost more respect for her when she refused to report cyber bullying to anyone. This creep decided to harass her but she kept refusing help. UH, that is exactly the time when you do ask for help, Emma. It is not the time to set out to prove you can handle it in the "real world" when you are only 17 and still in high school. Put on your big girl panties and ask for help. Nobody would look down on you for that.
I digress. Her character really did irritate me for coming across so childish when there truly were bigger topics at play that – I personally felt – deserved more attention.
Moving on.
The other thing that truly stuck out to me and got me right in the feels was the constant presence of family and support… especially when it came to Rev. That boy was never without someone to catch him if he stumbled. His adoptive parents were over the moon in love with this boy and really did everything possible to help him. No matter what Rev was going through, they had the patience of saints. I wish more stories had parents like this. They were so refreshing to read.
I really am trying so hard not to give too much away with this book. I want everyone to read it, it really was that good. As most other reviews have stated, this is set in the same universe as Letters to the Lost, and some of the same characters make an appearance, but it is not the same story line as that book. This is a standalone so if you haven't read LTTL, you will still be able to read and follow with no problems.