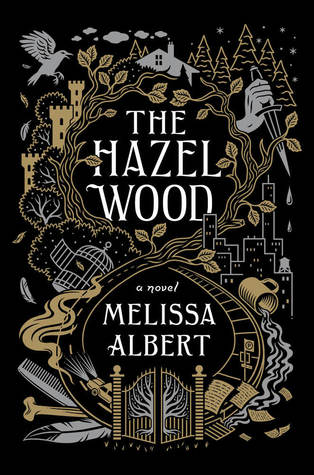 It is no secret that there are mixed reviews on this book. As readers, we cannot help but look at how our fellow readers/bloggers rate a book and read some of their thoughts before deciding if we want to take that plunge. I'm here to tell you that it seems my take on this story was against popular opinion because I loved this story. I really did! I loved the creativity, the imagination, the world building, all of it.
Short recap: Alice has not had an easy life. She has become a bit of a grifter due to her mother constantly keeping them on the move. Alice never knew what they might be running from but wondered if it had to do with her grandmother, Althea Proserpine, a famous author of a very odd – yet wildly cult popular – set of grim fairy tales. Luck hasn't ever been on her side as the oddest things happen to them… more than the average person, that is. Is there more to Alice's life than what her mother has been telling her?
From the moment this story started, I knew I would be hooked. The tone of the entire story was that of serious, dark, and foreboding. This would not be a happily ever after fairy tale. I connected with the protagonist, Alice, right from the start. I loved how complex and developed her character felt. The girl was angry from the start and she had every right to be. Alice Crewe (or Alice Proserpine) felt like a character I'd want to be friends with in real life, if this wasn't a fictional story about dark fairy tales, that is. I wanted to know about her past as badly as she did. My heart went out to her from the start. This girl was given a bad hand in life and it was made worse by her mother, Ella. I had a feeling there was more to Ella because she was keeping everything too close to the vest. If that doesn't make you want to know what secrets they are hiding, I don't know what will. Now enter Finch, the adorkable male side kick that is obsessed with the Tales from the Hinterland, the collection of fairy tales. Finch is the only person Alice knows that has actually read this collection of stories as Ella never let her. Why all of the secrets? Well, Alice and Finch set out on the wildest adventure to discover what has been hidden away from her. I can't say enough how much I enjoyed these characters, their backstories, and their development arc as the story continued.
Do not expect me to give anything away in regards to what these two find when they seek answers from Alice's grandmother, Althea, or when they try to track down the infamous house, The Hazel Wood. Trust me when I say it is one of the most creative ways I've seen to weave a magical tale.
The writing style was so well done in my mind. I was hooked on every word, needing to know what happened next. I was heartbroken when the story ended because I just needed to know more. My favorite thing was the way Albert told some of the fairy tales while the story moved along. They were perfectly woven into the story without overshadowing the actual present day story. Well done, Albert, well done.
I am excited to see where this story goes in the next book. I enjoyed this far more than I thought I would so yes, I do recommend to everyone. At least give it a try and if you don't like it, come back to tell me why. I'd love to hear your thoughts.