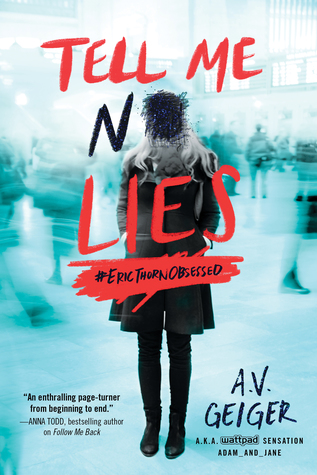 **An ARC was sent by the publisher in exchange for an honest review**
Y'all.
Y'ALL.
THIS. BOOK. It was everything I wanted and needed it to be! I was head over heels obsessed with Follow Me Back so I could hardly contain my excitement I received a copy of Tell Me No Lies. I believe I read this book in two days. If I could have given up sleeping and working, it would have been read in one day.
Short recap: Nobody knows really what happened to Eric Thorn. His Twitter account has been inactive and nobody knows if he is really dead or not. The last person to have known contact with him is Tessa Hart, the girl who started the "#EricThornObsessed" hashtag on Twitter. The only problem is that Tessa has gone missing as well. But Tessa is a known agoraphobic – can she finally make an appearance to tell everyone what happened?
Tell Me No Lies picks up almost right where Follow Me Back left off. Tessa had been attacked in her home by the guy that has been stalking her and it appears that Eric Thorn was brutally attacked. People actually believe that Eric has been murdered EXCEPT that they cannot find his body.  This book starts with transcriptions of police interrogations. These interrogations masterfully follow the story as it unfolds so as I (the reader) find something out, so do the characters. I believe this really helped move the story along and keep the suspense.
I did like how relevant and current this story felt. The first book was told through a lot of DMs, Tweets, and Emails while this book was told in police interrogations and some SnapChat messages. I really liked how Geiger incorporated modern apps to tell her story. It really did feel like something that would happen today. It just felt believable, especially in today's age where people are more willing to confide and trust people they meet on the internet. It made the story that much more compelling. The pacing was spot on and had me begging to find out what happened. I couldn't turn the pages fast enough.
I want you to know that I am struggling not to say more about this story because I wanted to give a proper review but no spoilers before the book releases! I do want to stress that this story was just has swoon-worthy and heart-pounding as the first book. I loved the relationship between Eric and Tessa. I will ship those two forever. As the story continued, I found myself sitting on the edge of my seat tearing through the pages to find out what happened to these two. I was hooked and I know you will be to! I did have that worry and fear that the sequel wouldn't be as good as the first but I was oh so wrong. SO. WRONG. I loved, LOVED this book. I almost didn't want to finish it because I wanted to keep Tessa and Eric around longer.
I'm going to finish this review by saying YOU WANT THIS BOOK. You want this series! Pick up the first book then binge read the second when it comes out in June. You won't be sorry!