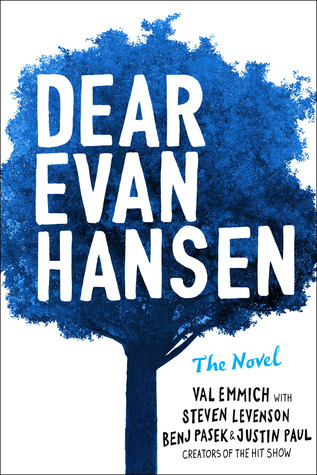 **I received an arc from the publisher in exchange for my honest review. I read this as a LBYRpartner**
I have been struggling for days on how to properly write this review. Why the struggle? You know how it goes – if I don't like a book I can easily type 5000 words or more and give in depth details as to why I didn't like particular people/places/things. But if I love a story, the right words needed to express myself escape me. This story, my dear readers, is one that is still with me and I still feel everything for Evan. It is just so good that I almost don't know what to do with myself.
Short recap: Evan Hansen was never the popular or outgoing kid in school. His mother even knows he leads an isolated life. Evan has a therapist to help him overcome some big issues. One thing he is tasked with is writing letters to himself… they are meant to be inspirational or whatever he is feeling at the time. He brings them to his sessions and they discuss. Pretty simple, no? Everything changes when one of Evan's letters – a letter that is real and raw – is stolen from him by a bully, Connor Murphy. Things get even worse after something awful happens to Connor and Evan's letter is found on him. It is implied that Connor and Evan were secret best friends. Suddenly Evan is the most popular boy in school, everyone loves him, everyone wants to talk to him and hear what he has to say… everything starts to go Evan's way… if only he can keep up the lie. Can Evan keep stringing everyone along? Can he live in the fake friendship and world he has created?
I pretty much went into this story blind, as I do with most books. I only knew this was based on a musical but seeing as I have not been to many musicals, I did not know the particulars of the story. Be that as it may, I feel that not knowing about the musical did not improve or worsen my reading experience. I had nothing to compare the story to so I was free to experience fully and without reservation. I do believe that was the correct way to go. I allowed myself to welcome Evan into my life and go on this journey with him. And what a journey it was…
When I say everything about this story took hold of me, I mean it. The characters were the absolute shining star of the entire novel. Evan was brilliantly complex and believably flawed. He preferred to be alone but at the same time wanted to have friends. I'm sure we all feel that way at some point in our lives, I know I related to that trait. Maybe that's why he chose to tell that little white lie that grew into something bigger than anyone could have ever imagined – the idea of being someone's friend, the idea of mattering to someone. No lie, that's a pretty powerful incentive in my book. But it was how Evan kept the lie going that really gripped me. I was bewitched by Evan and could not put his story down. I was in this one for the long haul.
The writing style seriously blew me away. I felt it was masterfully written and flowed so well. I was quickly turning the pages nonstop and before I knew it, the story was over. Talk about a quick read! But while it may have been a fast story to get through, it was not easy. There are very, very tough topics covered: suicide, bullying, lying, and more. Those are never easy to read but they cannot be easy to write about either. The authors of this novel did an excellent job of not making this a "preachy" story. I never felt it was an After-School Special. The topics within the pages of this book are handled very well.
You may be wondering when/if I will give more detail into exactly what happened … sorry! You won't find those here. Other reviews, perhaps, but not here. You know how I operate. I want to hook you with the premise and hope that you give the book a chance for yourself. I know there is already a lot of hype around this book and I'm here to tell you that it is all deserved. This book was everything I wanted and hoped it might be. It had me wondering what I would do if I were in Evan's place. I'd like to think I know what I would do but I wouldn't know unless the situation presented itself.
I'm rambling! See what this book makes me do! Now this is me imploring you to add this to your TBR if you have not already. Borrow from your library or borrow from a friend (if your friends are the sort to lend their precious out…). If there is one book that I urge you to read this season, it is this book. You'll thank me later.