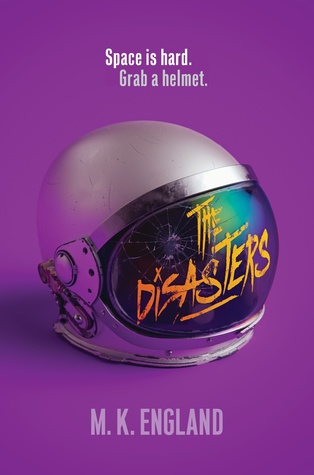 This story was just so much fun!  I'm not sure how else to describe this other than a rocking good time. It had everything I wanted in an action packed space adventure where I happily cheered for the rejects to win.
Short recap: Nax has only ever wanted to be a pilot. He got his chance to earn his license when he was accepted to the Ellis Station Academy but his hot-shot ways and bad decisions got him kicked out. While being walked out, Nax runs into three other students that are being escorted off of the station. This was their blessing in disguise as the station goes under attack at that exact moment and they are the only students/people that escaped and lived to tell the tale. There is one problem… the people that took over the station know that a ship escaped and they have blamed the entire thing on Nax and the others. They have proof of their innocence but will they be able to get it in the hands of the right people?
I will be gushing about this sci-fi adventure for a very long time as I loved everything about this story. The characters were flawed and believable, the storyline was compelling with enough romance and heart-tugging acts to make my feels hurt, and the world-building was magnificent. Let's start with the characters. Nax was the protagonist and I was a fan of his from the beginning. His quick witted snarky responses made me instantly like him, but it was his backstory that made me really root for him. He was the underdog that deserved to win as he constantly reminded me of a Chris Pratt-type character. Amazing. He was also biracial and bisexual – he owned that! He was confident in who he was and what he wanted, I admired that. The rest of the crew was just as outstanding and were a breath of fresh air. They were all beautifully flawed and full of faults, which made me enjoy them that much more. I loved how diverse this cast was.  There were people of color, bisexual, trans, multi-racial and more, which helped to strengthen the story. None of the characters or backgrounds were used to check a box or thrown in for the sake of conversation. They were were very well represented but never used in a derogatory way. The same goes with religion and multi-cultures. They were mentioned and discussed but never in a negative way.
The world building blew my mind. From the start I felt completely immersed in the world of Nax & crew, Ellis Station Academy, Swift Kick, and the various planets they visited. This was an excellent story where England was masterful with her "show me don't tell me" abilities. She knocked it out of the freaking park. This was just so well done that I cannot stop thinking about it.
I really will not be able to stop saying enough good things about The Disasters. The action was non-stop and it made the story fly by. When I was not reading this, I was thinking about reading it because I just had to know what happened. If you are on the fence about this sci-fi adventure, think of it as Guardians of the Galaxy meets Firefly. This is a story you want to be one of the first to read because you will want to recommend it to everyone. Please get your hands on this book when it releases. You can come back and thank me later.