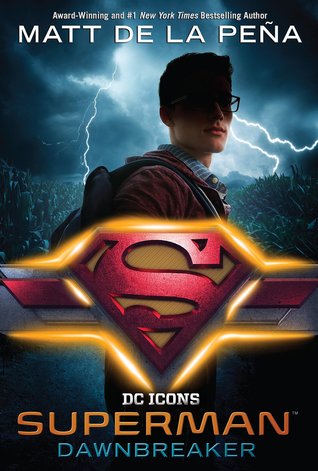 I consider myself a huge superhero nerd and while I prefer Marvel over DC, I give everyone a chance. I have enjoyed reading the DC Icons series and was ecstatic to read the last book in the series – Superman. While this was a short book and a super quick read, it was anything but what I expected. I walked away very disappointed.
While the other books in the series have been light on the backstory of said superheros, this book was hard core all about tell you where Clark came from. It was also heavily repetitive. I felt like I was being beat to death with the same information – Clark has gifts he never knew anything about, Clark realized that he isn't like the other kids, Clark discovered he can do things others cannot, you get the idea. It felt like De La Pena was doing everything in his power (har-de-har-har) to tell you as many times as possible that Clark is different. Noted. Clark wasn't a bad character but he wasn't fleshed out either. He was just … there. He was good in school but knew to not be more. He was just enough at everything he did to blend in. Ok, I get that. We all know his home life was as American as Apple Pie. No biggie there but nothing that I hadn't heard before.
The actual plot of this story left me wanting. It came across incredibly political and that was not what I was expecting. I am not going to give anything away but if you want to know, message me. I'll be happy to tell you what you want to know. Until then, this story felt like it was trying to tackle some major issues being faced in today's society within the pages of a 300 page book. Sorry but that's not how that works. I did not think this was an eye-opening or thought provoking story because just far too much was crammed into the pages. It was supposed to be about a teenage boy who grows up to be the hero Smallville needs but instead it was a teenage boy trying to solve huge world-issues that are so far out of his reach.
I cannot say it enough – I walked away disappointed. I had bigger hopes and that's what I get for getting my hopes up. I felt this was not the way to end the DC Icons series, it was a disappointment.