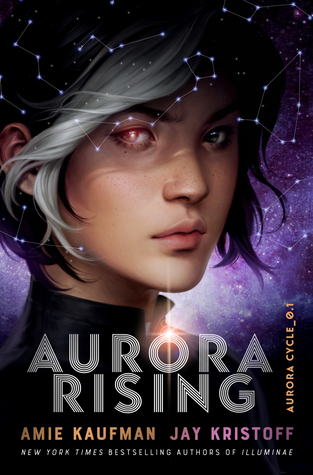 **I received an earc in exchange for my honest review**
OHHHH BOY.
Holy cow. This was one heck of a wild ride and I loved every single moment of it. I'm going to try really hard to review and not give anything away. HA. I should end my review now then, right? Let's see what I can come up with…
I firmly believe that these two authors cannot write a bad book. They have mastered the sci-fi setting but spinning in it such a way that it feels fresh. This really did feel like The Breakfast Club but set in space and I was absolutely here for it. The characters were deeply flawed and beautifully complex. They all had a voice in the story as they all had POV chapters so I was able to hear directly from them why they did what they did or know why they felt the way they did. That gave an extra layer of depth that made this story that much better. While there were a lot of characters (all necessary), my favorite character was Aurora. I loved her backstory and the journey she had ahead of her. I do have a soft spot for all of them, but she was the one I connected with the most.
The concept and plot of the story was utterly brilliant. A girl lost in space but in cryo-sleep awakened to discover she has a bigger role to play in the fate of the universe? And her fate is in the hands of a group of space cadets that never wanted to team up in the first place? Sign. Me. Up. It worked and it worked so bloody well. Once I started this story I could not stop. I simply had to know what happened. This was one of those books that I was thinking about when I wasn't reading it because I had to know what happened. I had to know what was going on with Aurora and why things happened the way they did. (Hint: I was not disappointed!)
What more can I say about this book without giving anything away? I know! The humor is ON POINT. I mean, if you don't laugh at all of the Middle-Earth jokes then there must be something wrong with you. The amount of references to hot elves felt like an added bonus for this already stunning start to a new sci-fi series. Not to mention the sexual tension and innuendos. They were not rude or crude but just enough. Whatever magical spell Kristoff and Kaufman cast years ago to be able to work so well together, I embrace it. They knocked it out of the park and I believe everyone will be in for one heck of a treat. I cannot wait for this to be out in the world and everyone read it.