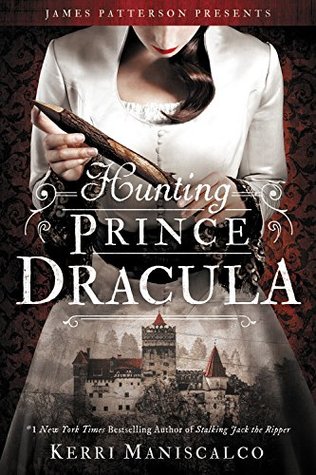 Oh Wadsworth and Cresswell. How you two have a part of my heart.
Short recap: Audrey Rose Wadsworth and Thomas Cresswell have been accepted to participate in an exclusive forensics training, which happens to be the former home of the one and only Prince Dracula. A strange series of deaths takes place and this famous duo springs to action to try to solve the mystery of what is really happening.
I thought Maniscalco hit it out of the park with Stalking Jack the Ripper… I was wrong. She only made the series better with her second book in the series! Hunting Prince Dracula was bloody brilliant. I thought I loved Wadsworth and Cresswell in the first book but this story made me love them more, if that is even possible. This story starts just weeks after SJTR. Audrey Rose is still shaken by the events that took place in book 1, but she has her faithful partner, Thomas, with her to keep an eye out for her. Both characters were deeply developed and wonderfully complex. They grew so much from the first book to this one…. and they continued to grow! Even their romance continued to grow and it was magical to witness. Thomas still had his undeniable charm and Audrey Rose tried to ignore his advances. The way they were together, no matter what the situation was, was amazing to read. They could be in a forensics class cutting up a dead body or waltzing around a castle – the chemistry was just there and it was hot. It had me blushing at times and that's saying something. Thomas was such a smooth talker that I wanted to claim him for my own book boyfriend. (Is he claimed yet? I want to claim him.) Thomas was not without his secrets and they are revealed in this story. They just made me like him even more.
The plot of this story was marvelous. Maniscalco did a wonderful job of researching and it showed in this story. The entire thing flowed like honey. It was a pleasure to read and I never wanted it to end. I was fascinated with the story of Prince Dracula and the way Maniscalco weaved her tale surrounding the Prince. Was he coming back to life? Was he the one responsible for killing the people and draining them dry of blood? You know I won't give anything away but you will not be left wanting at the end of this one. Oh who am I kidding – you'll definitely want more Wadsworth and Cresswell action.
I swear, Maniscalco must have some hidden magic up her sleeve because when she writes, I am transported to the world she has created. I never wanted to leave. I wanted to follow Wadsworth and Cresswell long after the story finished. I felt as if I was with these characters in the castle during those cold and blustery nights. I believed I was in those dark and frightening tunnels with this duo. I just could not put this story down, it had me from the first word. I swear, this author has magic in her words. Be warned – you won't want to put this down once you start. You might forego meals, work, and even sleep just so you can stay in this world just a little bit longer.
I'm making my proclamation here and now – Kerri Maniscalco is now an instabuy author for me going forward. I promise that if she publishes her grocery list, I'll buy it. If she writes a recipe for apple pie, I will own a copy. I will forever read whatever she writes because this author is gold. I hope I have done a small bit of justice to this story. Bottom line – bloody brilliant. Everyone needs to borrow/read/own this story so they can experience Maniscalco's words. You won't be sorry.