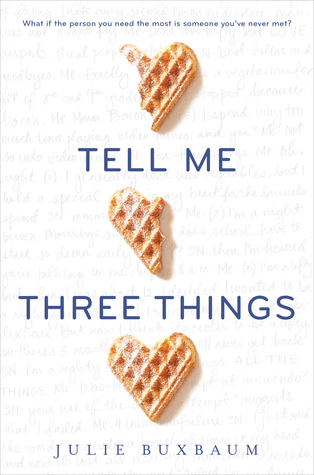 Do you know what drew me to this book? WAFFLES.
Short recap: Jessie is the new girl in school, having moved in with her dad. Shortly after starting at her new school, she starts receiving emails from "Somebody Nobody". SN offers to help Jessie get to know her new school and something she needs: a friend.
This was a fun story to read. Jessie's character felt real as she was both frustrating and genuine. She was also naive but charming and you couldn't help but like her. I enjoyed how she questioned everything but wanted to believe the best in people. Sounds like I would be friends with her in real life. The super fun part of this story is trying to figure out who SN could possibly be. Is it a sweet guy that wants to catch Jessie's eye? Liam? Caleb? Ethan? I liked all three of these guys! Liam and Ethan were musicians, while Caleb and Liam were good friends. There is a reason for any of these boys to be SN but the mystery is not revealed until the end and I was so excited when SN was revealed! It was just who I wanted it to be. *heart eye emoji*
Do know that this is not just a book about a mysterious SN emailing Jessie wanting to be her friend. This always deals with friendships, families, and grief. This is just just about a boy with a crush. There are some heavier topics and I think Buxbaum did a great job with all of it. She wrote about how important friends and family really are. Nobody's family is perfect so we all have to do our best to make it great. I felt that between Jessie and her dad. Their bond really made me smile. I wish more books had great dads like hers. The way Buxbaum also handled the loss of a parent was well done. That is never an easy topic and one authors normally shy away from, but it was covered in a very tasteful and appropriate way. Well done, Julie.
I enjoyed this so much more than I thought I would. I tore through this and was sort of sad when I was finished. I almost wanted my own SN to email me. Ignore the negative reviews and give this one a try. Make your own judgement on it but know that I thought it was adorable and cannot wait to ready Buxbaum's next novel.