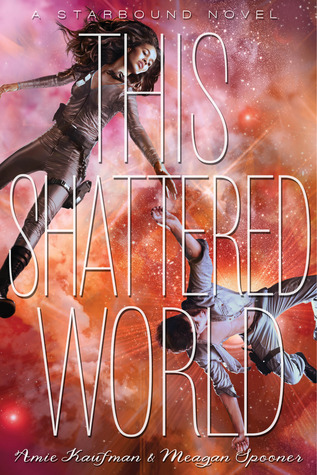 Hot on the heels of These Broken Stars, I borrowed This Shattered World from my library. I had read this series a couple of years ago but I'll be honest, I had forgotten a lot of the details. It was nice to go back and reread the story. Everything made more sense and that made me excited.
Short recap: Jubilee (Lee) Carter is as tough as they come. She doesn't put up with flack from anyone, especially not the cute boy, Flynn. Flynn wasn't quite ready for what he was getting himself into when he kidnapped Jubilee. These two have far more in common than they realized and together they set out to uncover the secrets to what is really going on with their planet and how LaRoux Industries is involved.
The very first thing that broke my heart about this story was how it was not about Lilac and Tarver. *le sigh* But rest assured they do make an appearance in the story and when they show up, things get even better. The way all of the character's stories meld together was nothing short of brilliant. I barely remember book 3, Their Fractured Light, but I do remember it bringing all three couples together for one overall story. Bloody brilliant.
Speaking of characters, I really liked Jubilee and Flynn. The romantic tension between them was very well written. I really wanted to just push them together so they would kiss already! I know Spooner and Kaufman know how to write suspenseful romance but c'mon! It was killing me. Jubilee was a well written badass tough chick that won't put up with anything. She's the captain of a special forces group on the planet Avon. She is feared and deeply respected by everyone on the base, everyone just knows her. She did not have the sweetest childhood growing up so she had learned to be hard. Flynn Cormac hasn't had an easy life either. He is the younger brother of Avon's infamous rebel and with that title comes high expectations. He went into hiding after she was murdered for her actions but that didn't stop him from joining the rebels anyways. It was either run away or be shipped off planet to be shuffled through the orphan system. Easy choice for Flynn. Both of these characters have internal struggles about what is happening – Jubilee wants to help Flynn and Flynn wants Jubilee's help. They both want to find out what is happening to Avon. It just works all the way around.
The planet setting of Avon was rich and vivid. I felt like I was actually there, it was amazing. The way it was described was a swamp-like planet with constant overcast skies. It made me think of a never-ending foggy day. The people of Avon never saw the sun or the moon and as a result, nothing ever grew on this planet. It never "terraformed" the way it should have. Would you be able to live on a planet that was under a constant sky? I'm not sure I would but everyone on the planet continued to survive but at a severe cost.
I think what I enjoyed most about this story is how it linked back to These Shattered Stars in so many ways. Spooner and Kaufman kept the storyline going and it was very well executed. The Whispers in TSS made an appearance in TSW but Jubilee knew them as a different name – The Ghosts. Regardless, a rose by any other name and all that jazz… The overall story was complicated, complex, and it was masterfully done. It showed that there was something bigger and more sinister working throughout the entire galaxy, not just in Tarver and Lilac's world. LaRoux Industries is up to something big. I cannot wait to finish the series with Their Fractured Light. No doubt that it will blow these other books out of the water.