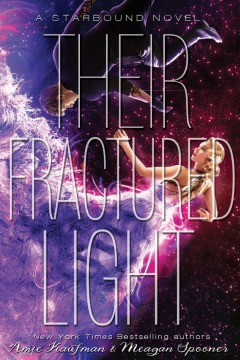 It took me a lot longer than usual to pick up this story. Why? Because I didn't want the story to end. I felt so much for Lilac and Tarver that I didn't want to say goodbye to them. I had so many highs and lows with them throughout the first two books, that seeing how their story ends and knowing there would be no more books with them kind of broke my heart.
Their Fractured Light introduced the readers to the final set of starcrossed lovers: Gideon and Sofia. In true fashion, these two have a complicated relationship with so many secrets they are trying to keep. Gideon is an 18 year old computer hacking genius that works under another identity, one very well known and very much wanted by the authorities. There is no computer system that he cannot get in to. Sofia has an amazing charm and the ability to make people do whatever she wants them to. She holds LaRoux Industries responsible for the death of her father and is out for revenge. They are living in the aftermath of Flynn and Jubilee's infamous Avon Broadcast. All eyes are on LaRoux Industries and during a botched security breach, Gideon and Sofia are forced to work together to escape. Neither trusts the other but they know they don't have much of a choice. They quickly learn that their best chance of exposing LRI may be by working together and revealing who they really are.
There is not much I didn't absolutely love about this story. Gideon and Sofia had a beautifully complex relationship. These two characters came from different backgrounds so their individual experiences played a factor in the fact they were hesitant to trust each other. These two spent nearly the first half of the book trying to ignore their feelings for one another, and that was kind of adorable. The wit and sarcasm that came from Gideon's character made me want to be friends with him in real life. Sofia was so guarded yet so smart that nothing got past her. They were so different yet so much alike and they worked.
I actually wanted to be friends with all of these characters in real life. They all were so wonderfully intense and fierce that they made me believe they could be real people. The way they all came together in the end, the way they were all connected was something that gave me gooseflesh. It is rare for that to happen to me when reading a book but Kaufman and Spooner just have that magic working for them. I read this hot on the heels of the first two books so things were fresh for me. I am glad I did it that way because the second time around… things made more sense. I still wanted more Tarver (WHO DOESN'T?!) and more of all of them. They were just such great characters that it hurts my soul a little to not be a part of their story anymore.
The ending of this book had me in freaking tears. I was crying in public for how everything came together and ended the way that it did. Lilac and Tarver, Flynn and Lee, Gideon and Sophia. All of these characters, along with their stories, brought me to freaking tears. I know that my feels will never, ever be the same. I will always have a special place in my heart and in my library for these books and characters. This is a series I will happily reread and read it as if it is the first time I'm being introduced to these characters. I hope you know I'm not going to give anything away but know THAT YOU HAVE TO READ THIS SERIES. Please, give it a chance. It is an emotional ride that you want to be a part of.