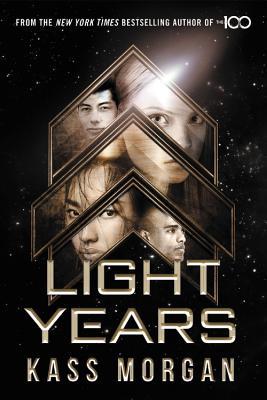 **I received an advance copy in exchange for my honest review as an LBYRPartner**
This is going to be another tough review to write as I greatly enjoyed this story. I enjoyed the setting, the characters, the plot, the twists, the turns, all of it. I am only upset about how long I have to wait to find out what happens.
Short recap: The Quatra Fleet Academy is doing something it has never done before – it is opening its doors to students from outer planets of the Quatra Federation to enroll. This means they will have the chance to be a part of their military, if their squad passes all of their courses and missions. Not everyone is keen to this idea of Settlers (what people from the outer planets are referred to as) having the same opportunity so mysterious (and bad) things start to happen. Four students from different backgrounds are assigned to the same squad will come up against unimaginable tests and challenges. Will it be enough to make their bond stronger? Can things work out for the Settlers in the Academy?
The way the story focused on four students was brilliantly done. They all had their own unique voice while blending together as a squad in a way that felt effortless. Cormack has had a very rough life. He came from a very poor settlement and had just suffered losing his brother, his only family. Desperate to get off of his planet that is full of toxic gas, he takes his brother's place at the Academy. Vesper was the daughter of a very well known and respected high-ranking military officer. She is also a spoiled little rich girl that things higher of herself and lower of others. She only got into the Academy because her mother pulled strings, but it is up to Vesper to prove she belongs there. Arran was whip smart, brilliant to the point of being a genius, but very shy and reserved. His acceptance meant a better life for his mom. Orelia claimed to be from a well to do planet but that is not the truth. She was actually a spy for the Specters, a very well known enemy of Quatra Federation. The Specters want nothing more than to wipe the Federation out, and with Orelia hidden within the student population, they just might be able to do it.
Do you see how beautifully complex these individual stories are?! They all have their own secrets and inner tribulations they are trying desperately to hide, all while doing everything within their power to prove they are better than the station they were born into. I do have my favorite characters but I'm not giving them away here. There were twists and turns I never saw coming, though I should have. This was a fast-paced, edge of my seat thrilling adventure. I know that phrase may get thrown around a lot but it really holds true for this story. I tore through the pages and had this story devoured in two days.
One part of the story that I do hope is expanded upon in the next book is the reason for all of the ongoing wars within this universe. Nearly every planet is at war or has been attacked for some reason or another. I'd like to know more about the political thoughts behind that. That was the only underdeveloped part of the entire story but I really do believe it will be explained more in the second book.
I really do hope that this book is on your TBR because I don't think you'll be disappointed at all. This was so much better than I expected and I had high hopes. If you are a fan of The Illuminae Files, then I say you need to give this a chance.