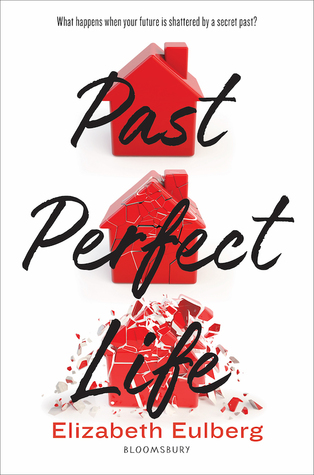 **I received an ARC from the publisher in exchange for my honest review.**
SPOILERS AHEAD! YOU'VE BEEN WARNED!
I was excited for the premise of the story – teen girl who had a strong relationship with her father and all around normal life discovers everything was a lie after simply filling out college applications. Do I have your attention now?
Ally Smith really was living a normal, quiet life with her father in the middle of Small Town America, Wisconsin. She was top of her class, had the best friends, had a wonderful relationship with her father, and was set to attend the college of her dreams. She went through the application process but when there was an issue, she went to the school secretary for help. That small thing changed Ally's life forever. Ally discovered that her father kidnapped her from her mother 15 years previous and lied to her about nearly everything (the only truth he told was that he really was her dad). Ally… or Amanda … really did have a mother who was alive in well in Florida and never stopped looking for her. Since Ally was not yet a legal adult, she had to be under the supervision of her guardian – her mother, Paula. Paula uprooted Ally from everything she knew and Ally worked hard to make sense of everything.
The concept of this story was fascinating to me. I absolutely love stories like this! What made this particular story even better for me was that it was told from Ally's perspective. I was given a first row seat into the thoughts, emotions, feelings, and struggles that this poor girl was going through the entire time. My heart went out to this character as she was innocent. She never wanted or asked for any of this to happen to her so she did her best to understand and adjust. There were parts of the story that absolutely outraged me simply because one of the characters was being very insensitive, selfish, and hard-headed.
Ally's character was masterfully written. She was very well developed and wonderfully complex that she felt so believable. I loved reading about how she and her dad had weekly routines and a relaxed, yet close relationship. Not to mention the close friendship/bond she had with her best friends! Even the town protected Ally after news broke of what happened to her. It made me want to embrace her in a hug and take her away from the madness she was experiencing. I even liked her Dad! Once his backstory was revealed, I wanted to be mad at him but really couldn't… I understood why he did what he did. He wasn't mean to Ally, he never neglected or abused her, he only wanted to protect her but he chose the wrong way to do it. But when it comes to Ally's biological Mom, Paula, I personally could not stand her. I knew I was supposed to feel bad for her because her child was missing for 15 years, but the way she handled everything screamed selfish and insensitive. She refused to listen to anything Ally had to say and never took anything she said into consideration. She tried to force 15 years of memories and feelings into RIGHT NOW. Paula expected Ally to be so grateful for being found and be happy at having her life uprooted. How would that not make someone upset and push them away?
Clearly Eulberg wrote a powerhouse of a story because it was able to provoke such strong emotions from me. This was a fast-paced page turner of a story. I finished in two days, if that helps at all. Everything about this story felt well researched, deeply complex, and wonderfully executed. The world building, the characters, the plot – all of it worked in the best way possible. I had no read anything from this author before but if all of her books are like this, I'm an instant fan.
Make sure to add this to your TBR now because you really do not want to miss this one.